Summer is officially over, which is fine with me. Cooling down with the arrival of fall is one of my favorite things to do. But first, I wanted to share some of what's been keeping me busy.
Blue Crabs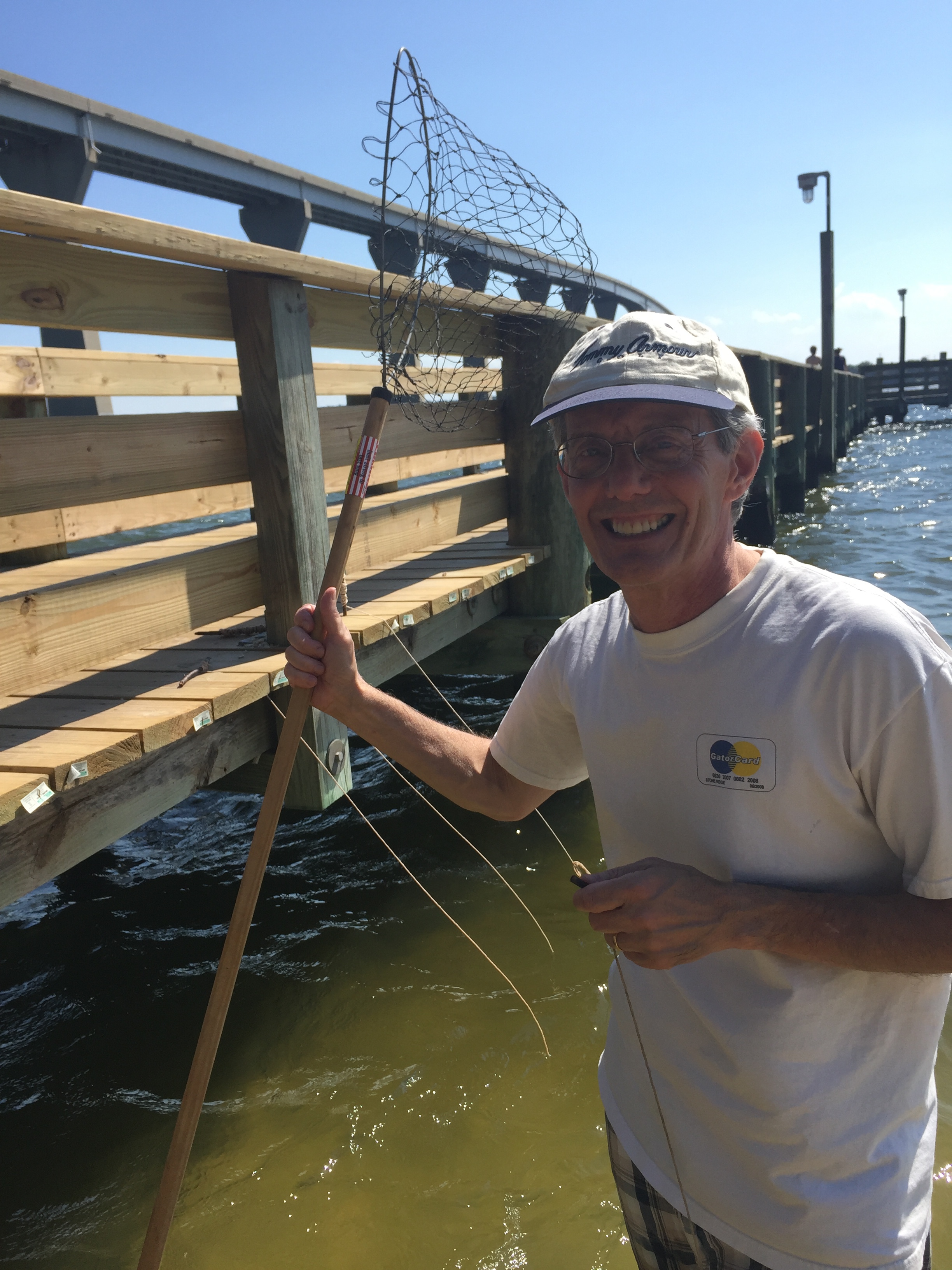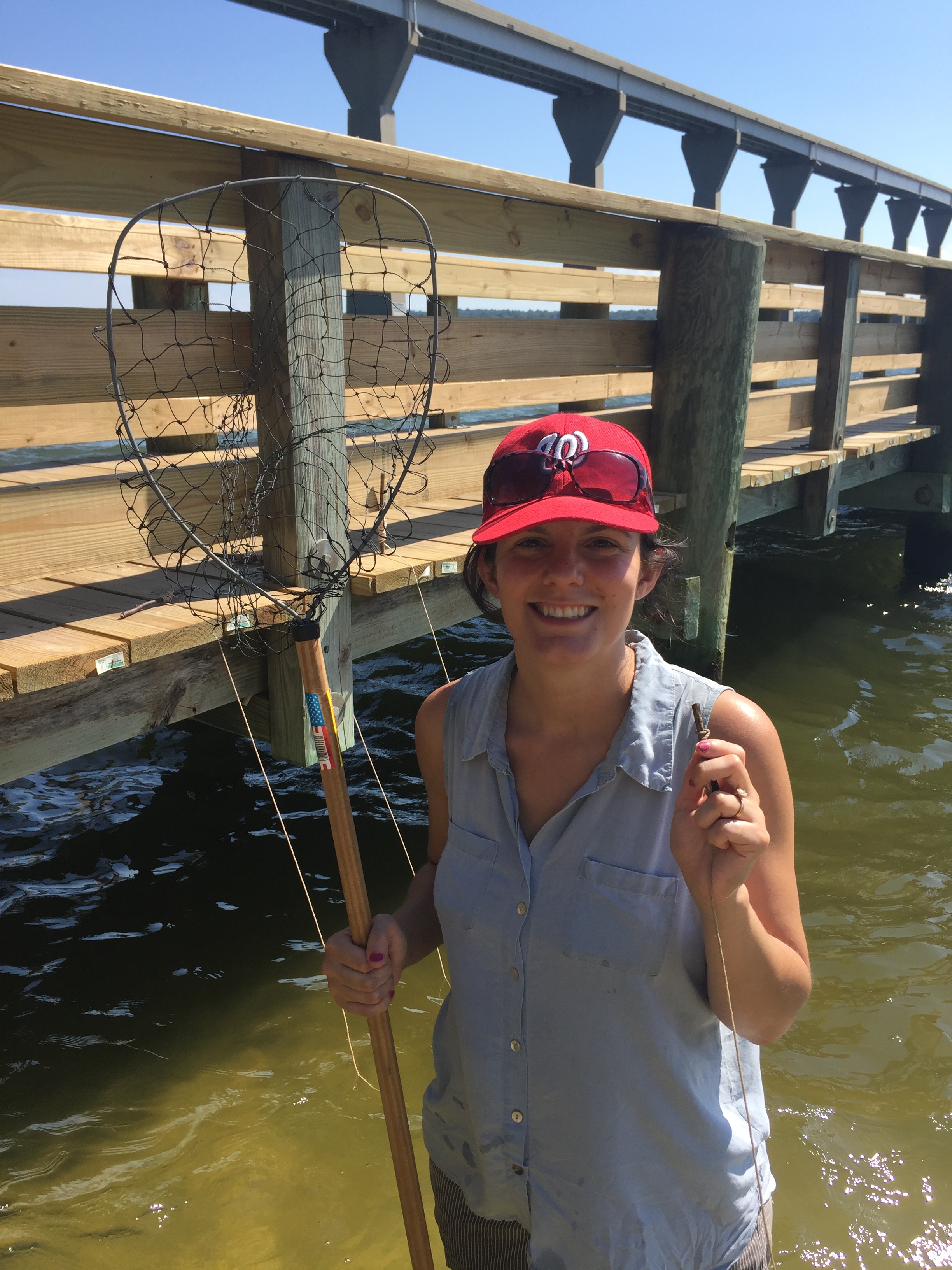 Can I let you in on a Muscato family secret? Crabbing with hot dogs. In my family, we don't mess around with fancy chicken legs or anything like that. Years ago, my dad came up with the idea of tempting crabs with a piece of hot dog tied to a string. This simple method has had mixed success each time we try it. Several years at the beach, we've caught enough crabs to make crab dip. Other years, we walk home with nothing but sticks, string and net in hand. And a lot of stories and embarrassing video footage that I was somehow unable to find for this post.
The beauty in the middle, above, is Big Blue. I caught him with my dad, who surprised me with the gift of a 1-year fishing license earlier this summer. We headed out to Solomons Island to check out the crab scene, and within minutes of setting up our rig, I caught Big Blue! We were both shocked and excited at what else Big Blue's presence might portend for us. Sadly, he was the only one we caught that day, so we put him back out of pity. It's no fun eating just one crab.
The second Blue Crab I interacted with was the Blue Crab Bolt 10K Trail Run, held at Schaeffer Farms in Germantown, MD. You may recall an earlier blog post I wrote about my first-ever race in March. Because of all that I learned from that experience, I decided I needed some more motivation to keep running. Hence the 10K this August. It took a lot more training than the 5K (which I owe all to my dog Gracie), and this photo doesn't really represent the roughness of the trail in some parts. I tripped multiple times and was convinced I would end up on my face alone on the trail. To my surprise, the only time I actually fell was at the very end, on a flat grassy stretch. I'll take that type of fall any day. I'm still not sure if I would do another trail race, but I must admit it kept things more interesting than running on asphalt.
Beach
I also took a week's vacation to enjoy the beach with my family. The beach house name was Shore Beats Work, and we all took this literally. My resolve to not work at all during this week made for some busy weeks leading up to and after the vacation, but I'm happy with my decision. Even though it rained more than usual and we didn't catch any crabs this year, the beach house lived up to its name.
Burgettstown, PA
You may know that I'm married to a farmer. You also may know that I have a relationship with local PR firm Vanguard Communications. Both of these things combined means that every September, you can expect to find me volunteering with the PR team at the annual Farm Aid concert, wherever it might be that year.
The 2012 Farm Aid stage is where I first heard Dave Matthews and Tim Reynolds play. In 2015, my own farmer was interviewed about his experience working on a small family farm. Last year, I got to meet Joel Salatin of Polyface Farms in Virginia, who calls himself a "Christian libertarian environmentalist capitalist lunatic farmer." This year, at the Keybank Pavilion in Burgettstown, PA, I got to cross "see The Avett Brothers" off my life bucket list. (I'm going to make another list so I can see them again, don't worry.)
Sidenote: If I were giving any sort of musical performance (pray that I don't), I think I'd spend the whole day silent and nervous. Which is why I was shocked and delighted to see folk rock legends The Avett Brothers agree to multiple media interviews — even singing Old MacDonald Had a Farm — before taking the stage. Like all the artists who perform at Farm Aid, The Avett Brothers took no money for their participation or expenses. Money from the concert goes to help family farmers all over the country, which is something I can definitely get behind. PS, did you catch my Jack Johnson riff earlier? He was there, too!
Things That Didn't Start With "B"
There were a few other fun summer happenings I wanted to share that didn't fit my title requirements for this post.
Montgomery County Agricultural Fair
I've gone to the Montgomery County Agricultural Fair ever since I can remember, but only in recent years have I discovered the "Old Timers' Show." This area of the fair features antique farm equipment, demonstrations of forgotten trades, and, well, old timers. I usually end up taking lots of pictures of goats at the fair, but I took lots of Old Timers' Show photos this year. Nearby was the delightful 4H building, which housed award-winning creations from cakes to crochet to cucumbers.
5K With the Whole Gang
Earlier this month, I completed my third race — the first I've ever done with Chris and Gracie! I'm grateful to both of them for keeping pace with me, since I'm sure they both would've liked to go faster. For our participation, the humans got bananas, and the dogs got bandannas.
And that about sums up summer for me. Even though the days are still hot and sticky, the nights are getting chilly and the crickets are getting chirpy. There's a smell in the air of Halloween, and it's socially acceptable to buy caramel apples and pretend you need to go back-to-school shopping. Because even though vacation can sure beat work, I still find a thrill in coming back to my desk after time off. I dust off the shelves, sharpen some pencils that I don't need, write a blog post to procrastinate, and then I'm back. And I'm ready to work.